Are you looking to create smarter, data-driven efficiencies with your business? Or maybe you're trying to map your next steps for digital modernization?
In this session, MNP Digital's senior solutions architect and data scientist introduce the concept that applications and data need to be modernized in tandem to produce the kind of predictive efficiencies organizations are looking for today. We share real world experience and examples, as well as host a roundtable discussion to provide the insights and next steps needed to build an environment that fosters innovation.
Ideal for: business decision makers, technical decision makers, and senior application and data roles
By watching this workshop, you will:
Better understand the relationship between application and data modernization and how they are interdependent
Learn what your organization needs to do to foster an environment that promotes innovation


Part 1: The relationship between data and applications
MNP Digital's data and application architects cover the high-level concepts required to lean into modernization.
Part 2: Panel discussion
Led by Principal Consultant Conan Lear, the group will talk about what organizations can do today to start down the path towards data and application convergence.
Speakers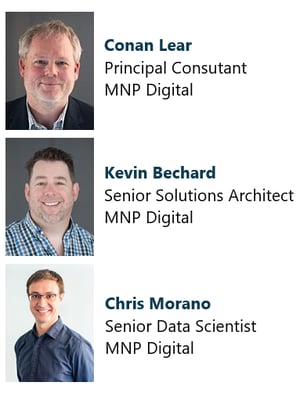 Watch the webinar now!
Complete the form below to access MNP Digital's Roundtable Webinar.
*required fields