Join MNP Digital's experts to learn how today's cloud technologies can support your business continuity efforts.
In this session, MNP Digital's senior cloud architect and cloud principal consultant explain that the path forward for your cloud isn't black and white, and that a number of tactics can be employed to mitigate risk and enhance efficiency long-term. We share real world experience and examples, as well as host a roundtable discussion to provide the insights and next steps needed to start preparing for the future today.
Ideal for: Decision makers/leaders with a stake in business continuity of cloud services, architects/engineers responsible for business continuity, and anyone with an interest in cloud
Workshop takeaways:
While cloud providers abstract many aspects of hardware management away from the customer, resiliency and recoverability of a workload are not guaranteed and require planning and ongoing attention.

An untested recovery solution is equivalent to no recovery solution.

Configurations should not be treated like data. Backup your data, automate your configuration.

Even though resiliency and recoverability have overlapping objectives of reducing downtime and increasing workload/platform availability, both are essential elements of business continuity.
Part 1: Planning for your cloud's future
MNP Digital's cloud architects cover the high-level concepts required to mitigate risk as you enhance your focus on business continuity.
Part 2: Panel discussion
Led by Principal Consultant Conan Lear, the group talks about what organizations can do to prepare for the future today.
Speakers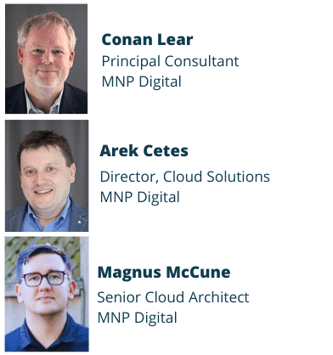 About MNP Digital
As one of Canada's largest national digital transformation and advisory teams, we offer full-service capabilities to assess, plan, pilot, implement, and operationalize the right solutions for your organization. Our team members combine inspiration and expertise to support scalable and purpose-driven innovation across domains of digital strategy, platforms, data and analytics, cyber security and privacy, and more.
>> Learn More
MNP Digital + Microsoft
Accelerate cloud transformation through the adoption of Power Platform, Dynamics 365, and a full array of Azure services and solutions. As a gold certified partner, we enable private and public sector organizations to grow and modernize their operations using the latest Microsoft technologies.
>> Learn More

Watch the webinar now!
Complete the form below to access the valuable insights and deep learnings found in this exclusive MNP Digital's Roundtable Webinar.
*required fields